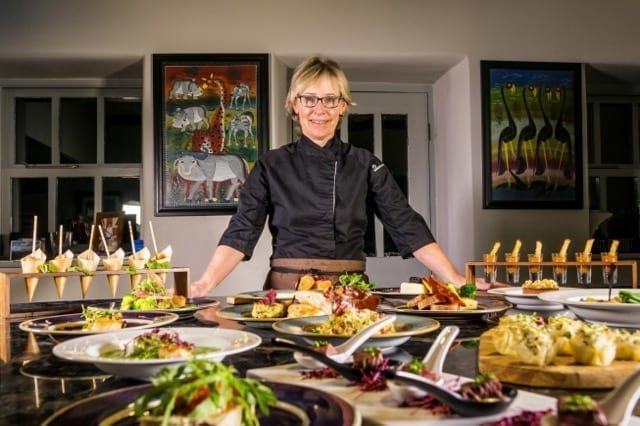 Guests can choose two choices collectively per course. £55 per head for 3 canapés and 3 courses, + £2 per additional canapé per head. A minimum charge will be required for any bookings of less than 6.
Waitress option – £10 per hour (approx. 4-5 hours)
If you choose this optional extra with Lady G, the table will be laid, drinks served, food served, and everything will be washed up prior to the chef leaving.
Starters
Chicken and black pudding terrine, piccalilli and toasted hazelnuts
Butternut veloute with a parmesan crumb
Chilled broccoli soup, salt cod mousse, seared scallops
Farmed salmon with a fricassee of winter vegetables, lemon mayonnaise
Goats cheese, fig and onion tart
Twice Baked Parmesan Souffle, tomato chutney (V)
Pan fried scallops with black pudding and cauliflower puree
Pan seared wood pigeon with textures of beetroot
Prawn and pea risotto with a lemon dressing
Mains
Chicken and parma ham ballontine, tarragon cream, pea puree, lemon infused potato puree
Rump of beef, suet crust, wild mushroom reduction, roasted baby potato's, thyme infused carrots
Pan-roasted fillet of farmed salmon, fennel, chorizo, buttered jersey royals
Rump of Yorkshire lamb, lamb samosas, potato dauphinois, savoy cabbage, red wine jus
Roast duck breast with crispy leg croquettes, truffle mash, roasted broccoli and a thyme reduction
Cod loin with a lemon risotto, spinach, parmesan crisps
Butternut risotto with beetroot crisps (v)
Celeriac and cauliflower rissoles, toasted chick peas, shallot dressing (vegan)
Desserts
Individual lemon tart, raspberry sorbet
Chocolate fudge and salted brownies, crème fraiche ice cream, white chocolate sauce
Roasted plums, vanilla ice cream, shortbread crumb
Apple tart, blackberry sorbet, Crème fraiche
Pistachio and olive oil cake, apricot sorbet, caramelised apricot
Chocolate delice, honeycombe, caramelised popcorn
Salted caramel tart with banana ice cream and raspberry puree
Carmel panacotta with ginger parkin
Sticky toffee pudding, crème fraiche ice cream
Canapés
Cold
Mini Prawn Cocktail
Crostini with Pea Puree and mint
Crostini with rare roast beef and coriander cream cheese
Duck Pancakes
Crab, chilli and lime filo tartlets
Crostini with citrus cured salmon with avocado puree
Prawn ceviche
Salmon and crème fraiche shots topped with watercress puree and pickled cucumber